| MISSION STATEMENT |

| NUMBERS AND PROOF OF EXISTENCE | RANKINGS |

| MEMBERS, ELEMENTS, WEAPONS AND WORLDS | MINI-MISSIONS

"Hello darlings~! It's good to see you all again after a few days of rest, right? I'm sure none of you would want to listen to me blather on about unimportant things right after a stressing fight with ABBADON. You'd all rather sleep in and rest up. Trust me, I'd rather do that too. So here I am! Now that Superior Xelegie is back, that's officially the end of all this crazy business.

ABBADON has been thoroughly taken care of, rest assured, we've got some solid proof. And oh my, you all really gave that thing a beating... The basement was torn to shreds by the time I got down there. Don't bring the whole Castle down, people! We live here too! -huff-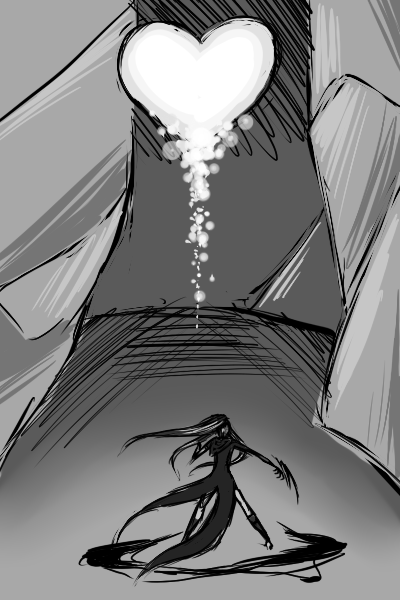 Now we're back on top and ready to go. Several people have done such AMAZING work, promotions have been awarded! We really appreciate all the work you've been doing for us and I must say, you're all hard workers when it comes down to it~. Look forward to who's getting a 1-UP, I'll be contacting you shortly, hehe.
On that note, I'm sad to say that this will be the end of Org-Infinity. We've had some good and memorable times here, but this ancient system has met its match. We're closing our doors as Org-Infinity in a short while...
.... only to open up again as ORG-INFINITUS!

Did I scare anyone? I hope I scared someone aaaaaaahahaha <3 You really think we're closing? NOT WHILE WE'RE ON TOP.

So my wonderful underlings, totter on over there and submit your proof of membership. Remember, MEMBERS ONLY. We're not ready to open our doors to the public just yet.
Once we get most of the members back into the system, you will be reassigned a new number, again. ( My apologies! ) But some people have left their rooms unattended for far too long and frankly, I don't enjoy all the dust that's sitting around.
Onward, and until next time!
- Superior Jixsei, no. LXIX
----------
In simpler terms, Org-Infinity will be re-opening as a group! I'm pretty sure it's more convenient that way and we
have
been asked several times about it. Now that we're comfortable where we stand, it was about time we had a major overhaul this way. ( Plus, doesn't Org-Infinitus have this spiffy ring to it? ) Anyway, current members can just drop in a join-request, you don't have to put anything in the message box, but feel free to put something fancy or silly in there, we're reading them after all.
Have fun!
EDIT: ALSO, all missions that have not been uploaded and art from the ABBADON event will NOT be uploaded to this account and instead, will be submitted to the group later on.

----------
Final List of Event Participants
(For your convenience)
----------
Jixsei -
i169.photobucket.com/albums/u2…
Ximraa -
arada.deviantart.com/art/OI-Ba…
Prescenx -
onmitsushojo.deviantart.com/ar…
Part 2:
fav.me/d3cpksd
Xathalas -
fav.me/d3bcyxx
Part 2:
veriun.deviantart.com/art/OI-I…
Tsoxiba -
scary-scarecrow.deviantart.com…
Part 2:
scary-scarecrow.deviantart.com…
Paxsn -
spaniel122.deviantart.com/art/…
Part 2:
spaniel122.deviantart.com/art/…
Nexslyid -
gdorchaser13.deviantart.com/ar…
Part 2:
gdorchaser13.deviantart.com/ar…
Thannax -
fav.me/d3bid5a
Part 2:
gothicorvintage.deviantart.com…
Haxor -
fav.me/d3bb0ms
Xoran -
veriun.deviantart.com/art/Xora…
Part 2:
veriun.deviantart.com/art/OI-I…
Xelenora -
lady-nina.deviantart.com/art/B…
Part 2:
sevenfawm.deviantart.com/art/M…
Xiam -
xerchisha.deviantart.com/art/B…
Part 2:
fav.me/d3c5tl9
Xalel -
she-who-shat-bunnies.deviantar…
Part 2:
kaasen.deviantart.com/art/Its-…
Wyxmern -
kammig.deviantart.com/art/Wyxm…
Part 2:
kammig.deviantart.com/art/Wyxm…
Rxea -
thekyuubi-chan.deviantart.com/…
Ilexnia -
crazypiratemouse.deviantart.co…
Part 2:
crazypiratemouse.deviantart.co…
Syllioqouix -
fav.me/d3bd1jo
Part 2:
crazypiratemouse.deviantart.co…
Kexohick -
gothicorvintage.deviantart.com…
Part 2:
gothicorvintage.deviantart.com…
Jinix -
kaasen.deviantart.com/art/Its-…
Part 2:
kaasen.deviantart.com/art/Its-…
Xycann -
fav.me/d3berty
Part 2:
dashortquiet1.deviantart.com/a…
Vonix -
sevenfawm.deviantart.com/art/I…
Part 2:
sevenfawm.deviantart.com/art/M…
Nelujix -
chickah-dee.deviantart.com/art…
Part 2:
chickah-dee.deviantart.com/art…
Xiantra -
kingv.deviantart.com/art/Xiant…
Part 2:
kingv.deviantart.com/art/Xiant…
Foxenar -
fonear.deviantart.com/art/It-s…
Rexdian -
fav.me/d3bf1dw
Xilias -
shinigamijacula.deviantart.com…
Part 2:
fav.me/d3cpksd
Galixnil -
hyperionwitch.deviantart.com/a…
Part 2:
hyperionwitch.deviantart.com/a…
Xatu -
miro-kaisou.deviantart.com/art…
Part 2:
miro-kaisou.deviantart.com/art…

| RULES | HOW TO JOIN | SUBMISSION GUIDELINES | FAQs |

| CHATROOM |

| AFFILIATES |